Department of Physical Sciences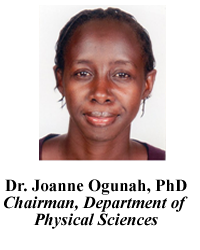 I take this opportunity to write a foreword of the department of Physical sciences. The department of Physical Sciences is one of three departments in School of Pure and Applied Sciences. The department consists of Chemistry, Physics, Mathematics and Computer Science. The department also services related areas in the School of Agriculture. The programs offered are of high quality and affordable and have the capacity to open wide opportunities for our graduates in this competitive era in terms of research, innovation and technology

The department has undertaken to use effective training, teaching and learning approaches that give our graduates cutting edge competitiveness in the fields they pursue. The teaching experience has the problem solving approach and it is learner centered.

Our programs are well structured and enriched to give the learners the experience they require to face the dynamic world with a future of prosperity.

Please find it a pleasure to visit our webpage for any clarifications.
COD Message